So, the other day I had a business meeting in Paris. Just so you know, I'm not often in Paris; first of all, being that I live in the suburbs, well, I just spend more time in the suburbs, but also, all the big companies tend to have their headquarters outside of Paris due to a cruel lack of space.
If I'm filming on set, the same applies: Studio City in Paris is in the Northern suburbs, so the truth is, I'm around Paris, but quite rarely actually within the "walls" of the city, or as we say in French "intramuros".
And so, I had a meeting really in town, and that was nice. It was also a gorgeous afternoon: summer has left us, strangely right on the 21st of September, and this was the Monday 22nd, so it was indeed the last nice day of the year.
I finished up early, as the meeting went very well: and I did something that I have not done in over 10 years.
I went back to my old neighbourhood.
Or "arrondissement" as we say in French.
The city of Paris is broken up into "arrondissements" or neighbourhoods. They are numbered 1 - 20, with the 1st starting centrally at the Seine, with the Cathedral of Notre Dame. This is, in fact, THE central point for all maps, measurements, and calculations in France. The other arrondissements curl around the 1st, looking like a snail, in numerical order.
Some of the "arrondissments" are more, how shall I say?, popular, as in, not quite as wealthy or chic. The wealthiest arrondissements are the 8th, the 7th and the 16th, with the last 2 traditionally being the bastions and origins of all the old, aristocratic French families.
The 8th arrondissement is the one where the Champs-Elysées is. The 7th is right behind the Eiffel Tower. And the 16th is just off the Champs-Elysées where you will find the old and presitgious Avenue Foch.
Legend says that when Gustave Eiffel built his tower for the 1889 Universal Expo in Paris, the old French families feared that the Eiffel Tower would fall and crumble and thus destroy their homes, and so they all moved to the 16th arrondissement on the other side of the Seine river facing the Eiffel Tower, behind the Trocadéro.
Now, I may get some hack for this, but truth is, I don't really care. I'm from the 16th. 16th North. To be exact, I grew up on Avenue Victor Hugo.
Yup. It is true. I'm an Uptown Girl.
In true 16th Princess-style, I ate croissants every morning from the one and only Le Nôtre food shop, known to cater to the old aristocratic families exclusively. I shopped on the Rue de Passy. If I had to go to hospital, I would go the American Hospital in Neuilly-sur-Seine. I danced ballet for years at Rachmaninov.
Was it nice? Well, hell, of course it was. Was it idyllic? Well, yes it was in a certain way. The streets in the 16th aren't the hustle and bustle of crowded, dirty central Parisian areas. You won't find many tourists either roaming around here. Which, to be honest, is great. The bulidings are all "Pierre de Taille" or very "Haussmannien" in architecture: centuries old, Art Déco at it's best, high ceilings and spacious homes. This is the old Paris: where "apartments" are not apartments but "hôtels particuliers" or "private hotels/residences"; all housing multiple floors, built like mansions within the city. The streets are lined with tall trees, there seems to be doormen in front of every building, and you won't find a hairdresser here who will be willing to dye your hair pink.
True, uptight. But safe. And cozy.
And in true 16th style, I went to University in the 7th, Avenue Bosquet, and found myself much at home there too. To be honest, I may have a slight preference for the 7th: there are the same old buildings with the gorgeous architecture, but there are also museums, huge libraries, delicious little pastry shops and you're at the foot of the Eiffel Tower.
But, I return very often to the 7th. I don't know why; first of all, I work as interpreter at the Musée du Quai Branly which is 5 minutes away from the Eiffel Tower. But also, I just like going back there. It reminds me of fun, independence and...I don't know.....I just love it there.
Maybe, going back to the 16th brings back memories, but most of the painful, or at least, painful to go back them. But, for some reason or another, I really wanted to go back. No, I HAD to go back.
I still don't know why. I'm still in a kind of dream-state about returning back there...
But here are some pictures that I snapped: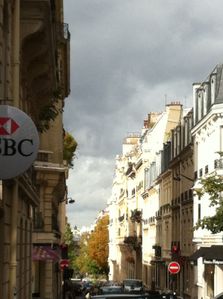 This the view from the Rue Copernic, which is a side street perpendicular to the Avenue Victor Hugo. My parent's house looked over this, street-side.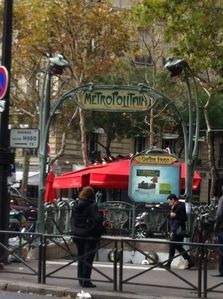 Métro Victor Hugo, on the Place Victor Hugo.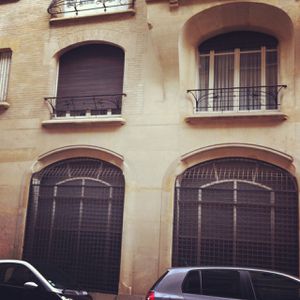 A shot from the rue Copernic, of my parent's old house. The huge windows on the ground floor are some of the windows from the salon.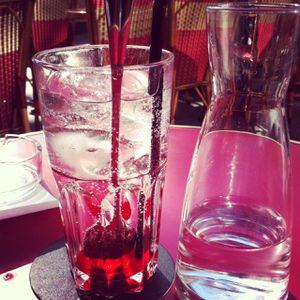 I sat at a café on the Place Victor Hugo and had a drink I used to always have, but have grown out of now: a Diabolo Fraise. What it is, is just fizzy lemon soda mixed with strawberry syrup. Totally regressive. But it felt good.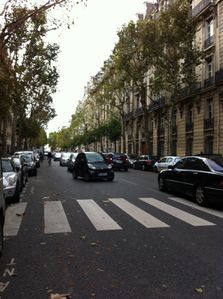 A shot of Avenue Victor Hugo, from the Arc de Triomphe side, looking down towards the Place Victor Hugo.
It was a great afternoon, but sad in some ways too. I'd never go back and live on Victor Hugo, not even in the 16th I think, to be honest. It certainly is a beautiful area of Paris, perhaps one of the most beautiful places in the world. I certainly feel very lucky to have grown up there, and fully realize that it is a gift. But, the sad part is also my parent's bitter divorce, a loss of innocence and the whole area reminds me of a past time that is gone. I lived in the 16th with Mike on the rue de Passy after I moved out of my parent's house, when we were just kids, or at least, I know now we were just kids back then, but back then, we thought we knew everything about life and love. We had fun then; we shared a tiny little place, with one heater in front of which we had a cozy little bed. We laughed a lot in that place; drinking lots of cheap alcohol, going to work, eating take-out pizza. We weathered in that little place, the Great Winter Storms of December 1999 which took place the 3 days right after Christmas. We were sure that the windows were going to explode, despite the protections we had put up. We didn't dare go out; until Mike being brave (or I think it may have been hunger that sent him out looking for croissants) on the morning of the 4th day.
After 3 nights of howling winds, crashes and general panic, he was greeted by an unbelievable sight: Paris was in shambles. It looked like he had walked out into a no-man's land, or the aftermath of some war. Roof tiles were everywhere, walls were crumbling, and there was not a soul was to be seen on the streets. He even doubted that he'd find anything to eat. It took him wandering around for over an hour to find a little bakery that didn't have croissants, but was selling hot, fresh bread. The baker was an old Parisian and told Mike that come rain or hail, people still needed their baguettes, right?
He came home with his baguette (which by the time he actually got home, was more like half a baguette, as he had hungrily eaten chunks off of it, like a child) and told me with wide eyes that I had to go outside. So I dropped the book I had in my hands, and we went out hand-in-hand, both of us now eating the baguette with our hands. And the sight was indeed something: it looked like the Heavens themselves had tried to wipe Paris off the world maps. We learned later that the Great Storms had caused nearly 100 deaths (92 to be exact) and 19.2 billions of dollars of damage. In the forests and parks surrounding Paris, nearly all the trees had been uprooted and there, the damage was truly spectacular. Even today, if you go walking in some of the forests, some of the damage is still visible. Over 140 million trees were uprooted and killed by the violent winds that reached over 210 kilometres per hour.
But strangely, what I remember most is not so much fear, because being with him I wasn't really scared and he doesn't really get scared (although he and I were a little jumpy during the worst of the storms) but the sense of togetherness: I think we barely let go of each other during the storms, talking not so much, but huddled against each other nibbling cheese and bananas, wondering if the winds and the incessant rains were ever going to stop. At one point, we started giggling, in hysterical laughter that we should have built an ark.
It's interesting isn't it? You're in the middle of perhaps one of the worst natural disasters that the area has ever seen. And your mind just starts to work differently; you start talking about how to swim to safety. In a normal state, you don't think about things like that. Survival. We humans are certainly a fascinating species.
So, I thought about all of that; how long ago it had been. The parties at my parent's, my sister speechless when I bleached my hair platinum blonde, going to school, falling in love, and falling out of love.
Life takes us to strange places sometimes. And it seems like a convoluted road to get back to sources. And at other times, it just takes a 10 minute drive to get there.
Thanks for reading and see you soon.