TUTORIAL : ELEMENTAL WATER
First of all, before applying any makeup, make sure you moisturize. I use the Topialyse Sensitive Skin Cream.
I always apply a good layer and I wait a good 5 minutes to let the moisturizer soak into the skin.
I then used a VERY light-toned foundation. For this look, I used the Bourjois Healthy Mix Foundation in the lightest colour.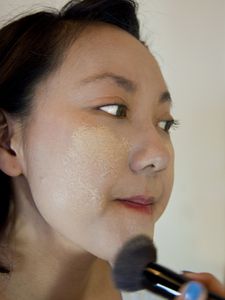 As you can see, I used a stippling brush. I used the Sephora brush.
I "stippled" because I really wanted to apply a thick layer of foundation. I find that using a stippling brush is the most effective way of applying a "layer". Also, being that I used a foundation that was about 5 tones lighter than my natural skin, and being that I was aiming for a "surreal" effect, the stippling brush was really perfect.
I let it set for a minute, then I used my fingers to blend in more, especially into the hairline, down the neck and to smooth out lines.
I then applied an eyeshadow primer. I used the Too Faced primer. I actually quite like this primer, although I admit, it does "separate". So, I shake it up before applying. Also, this primer is the lightest toned primer I have so, this was ideal for this look.
After that I used the new Spring palette from Claire's. It's inexpensive and the good thing about this palette is that, for the price you get 10 shadows. And they aren't so bad; they are quite pigmented, quite long-lasting (although don't expect a miracle!); if you want a real day-long stay, then you will have to apply a primer before using these shadows.
I used the turquoise colour in the inner half of the eye. I then used the slightly darker blue in the outer half of the eye.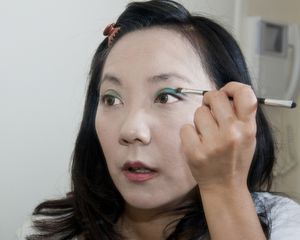 I then lined my eyes with the Clarins Waterproof eyeliner in Turquoise. I applied a thick line then really winged out the line, bringing the pencil up into the crease, and then colouring in the space in the "triangle" that I drew.
Into the crease, I contoured using the Maybelline Denim eyeshadow, which is one of their mono-eyeshadows. It's a dark blue, denim colour and is very nice for creating more depth to the look.
I then used a Makeup Forever blending brush, to blend together all the different colours on the eyes, so as to give a more homogenous and "pulled together" finish.

On the bottom lash line, I used the Body Shop Sea Green metallic eyeliner in Number 11. Using a wide range of tones, all the while staying in the blue/green area of the colour wheel is what is interesting about this look.
I then tightlined the eyes with a waterproof black liner from Yves Rocher. The black is very important, as it anchors the look.
I then applied pigment, in the middle of the eyelid, in a bright silvery colour, which gives dimension to the look.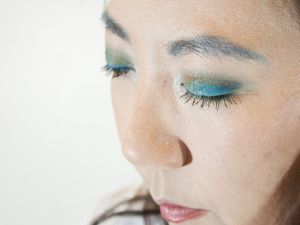 This "sparkle" also draws attention to the eyes...not that this look will go unnoticed!
I then applied a layer of Bourjois Elastic mascara in Black. Personally, I don't wear false eyelashes. I find that they tend to damage your eyelashes, but if you do wear them, then why not? This look could indeed do with an addition of fluttery lashes, and you could indeed go all-out and apply falsies with sparkles or blue lashes like Katy Perry. For me, I find that the formula of this mascara makes my lashes very dramatic. In fact, I tend to only use this mascara when I'm going for a very dramatic look; and just one coat, otherwise, I find that my lashes tend to clump.
After that, I applied concealer under the eyes to clean up. I used the Maybelline Fit Me Concealer in Medium. I know that not many people like the Fit Me line. I'm not sure exactly why, because I really, really like it to be honest. But I will say this: I have very, very, very dry skin. And it's true that I find that the formula for the Fit Me face products are more adapted to dry skin. I wouldn't perhaps suggest these products if you have oily or acne-prone skin.
After the concealer, I applied powder to set the face. I used my fave Rimmel Matte Powder in Translucent, which I really like. It's a great product for great quality, and you get a tonne of product!
Then, I put some eyebrows on. For this look, I used the L'Oréal eyeliner pencil in Navy. I like this look with the dark blue eyebrows. And the L'Oréal pencil worked really well. Use a light touch though; this is an eyeliner, so the formula is very creamy. Even though this is a very dramatic look, you still want to aim for a fairy or nymph-like look.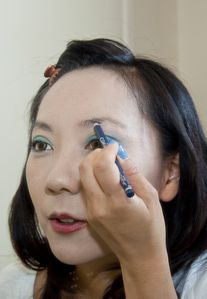 Ok, then I worked on the lips. As you can see, I wasn't neat with my application of foundation; this is because I tend to have high colour in my lips. And I wanted to "cancel" out the colour a little bit, so as to be able to apply my lip colour. So, I went in with the Clarins Turquoise eyeliner, using it as a lipliner and also colouring in the lips with it. I then applied the Maybelline Colour Tattoo eyeshadow in Number 20 Turquoise Forever. Ok, let me say this: this stuff rocks! I love this eyeshadow! It really does stay put for a looong time and it works brilliantly as a primer. I tend to use the Taupe Pot for my everyday look as a primer.
Then I applied a touch of L'Oréal Colour Appeal Chrome Shine in Starry Night. I used this in the middle of the lips, both top and bottom, to give a 3-D effect to the lips.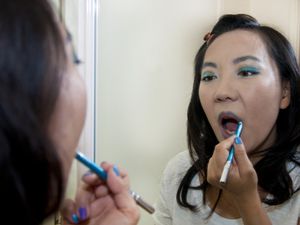 The last thing I did was to apply a touch of Dream Mousse Blush by Maybelline in Pink on the apples of the cheeks. The foundation had "paled" me out so much, I wanted to counteract a little bit that effect, otherwise, I would have looked like an alien and not a water nymph!
And that is it for the look! Granted, this isn't an everyday look. That said, this can be adapted; use a more natural foundation, skip the blue eyebrows and lips, and tone down the eyeshadow, and this should certainly be wearable on a more everyday basis, or for a night out.
The next look is FIRE, so stay tuned!
If you have any questions about the look, then feel free to ask.
Thanks!